Sep 7, 2017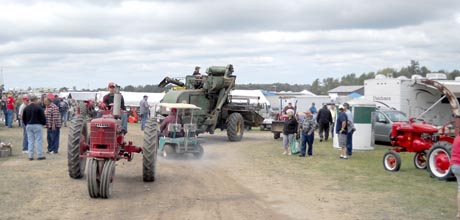 (The Batavian file photos.)
Press release:
The annual Western New York Gas & Steam Association Rally is celebrating its 51st year Sept. 7 - 10! This year's rally will have live music, a flea market, daily tractor pulls, parades, farming equipment from the past 100 years and more.
Since 1966, families have attended the annual rally. They've come in droves to explore more than 100 years of farming equipment history, bargain with 170 vendors at the flea market, and enjoy classic fair foods and daily demonstrations – including threshing, a working blacksmith shop, saw mill and working models, even a pumpkin cannon!
Each year, the Association honors different equipment at the rally. For its 51st celebration, the honorees are Massey-Harris/Ferguson, Dejardins and Delco. You'll also see antique tractors, steam engines, gas engines, tractor pulls, working models, woodworking and construction equipment.
The rally will take place at 10294 Gillate Road in Alexander, just 15 minutes south of Batavia. Hours are 9 a.m. to 9 p.m. Thursday through Saturday, and 9 a.m. to 4 p.m. on Sunday. Admission is $7 for adults, and free for children 12 and under -- and with free parking, it's an affordable way to spend a fun family weekend.
Rally Schedule
Thursday, Sept. 7
9 a.m. -- Huge Flea Market Opens -- 170 Vendors
3 - 6:30 p.m. -- Pasta Dinner
4 p.m. -- Consignment Auction - Auctioneer: Bontrager Real Estate
7 p.m. -- Truck Pull - Street Legal Stock 4x4
Friday, Sept. 8
9 a.m. -- Flea Market
12 p.m. -- Old Time Tractor Stone Boat Pull
3:30-6:30 p.m. -- Shopkeepers Concert
4-7 p.m. -- Live WCJW Broadcast
5 p.m. -- Steamed Sweet Corn
7 p.m. -- Tribute to First Responders & Firefighters
7 p.m. -- Start Tractor Pull, Steamer Pulls, Semi Trucks, Superstock, Modified and Superfarm, Tug-A-War -- Steam Engine vs. Kids (will happen during the evening Tractor Pull performance)
Dusk -- Children's Movie
7:30-10:30 p.m. -- Kelly's Oldtimers -- live music with round & square dancing
Saturday, Sept. 9
9 a.m. -- Flea Market
10 a.m. -- Tractor Pull - Antique - Semi-antique -- 1959 & older, EGTPA & Stock -- off the lawn garden tractors & team pulls (continuing through the day & evening)
12 p.m. -- Pedal Pull ages 3-10
1 p.m. -- Alexander Firemen's Band Concert
2 p.m. -- Lawnmower/Tractor Parade ages 11-18
3:30-6:30 p.m. -- Shopkeepers Concert
5 p.m. -- Steamed Sweet Corn
6 p.m. -- Veterans Benefit Outdoor Concert -- with Not Quite Right and Route Two40 Ride, Tug-A-War -- Steam Engine vs Kids (will happen during the evening Tractor Pull performance)
7:30-10:30 p.m. -- Don Newcomb & Rawhide -- live music and round & square dancing
Sunday, Sept. 10
9 a.m. -- Flea Market
9 a.m. -- Church Service
10 a.m. -- Car Show
12 p.m. -- Tractor Pull - Farm Stock & Team Pulls
1-3 p.m. -- Niagara Frontier Fiddlers Concert