Oct 20, 2018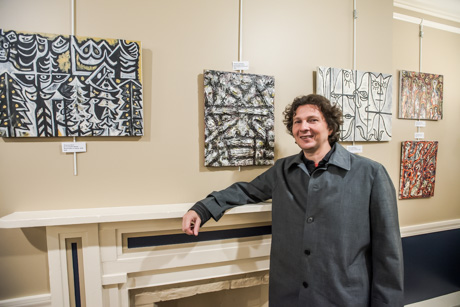 Artist Christopher McGee was at GO ART! on Thursday evening for the opening of his show, "The Rhythms of Nature."
Born in Jamestown, the Clarence-based artist said this is the first time he's had a show for this series of paintings.
He began the series in 2008 while observing landscapes while on road trips throughout Western New York.
He said, "My experience playing drums in experimental and improvisational noise bands helped me to visually express some of the more mercurial, unpredictable elements in the universe: earthquakes, meteor showers, supernovas, and black holes."
The show runs through Dec. 8.
GO ART! has two other shows on display as well:
The Batavia Photography Club has photos on display by members through Dec. 8.
The Traveling Ghost by Ryan Gustman is on display until Nov. 3. Gustman was diagnosed with high-functioning autism spectrum disorder and ADHD early in his life. He specializes in photographing abandoned buildings.
By Howard Owens, The Batavian