Jul 24, 2018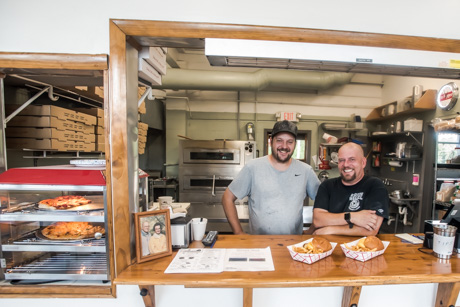 After spending a couple of decades kicking around the kitchens of Batavia, Robert Rudnicki and Adam Horton decided it was time to strike out on their own.
They're starting small -- a pizza and sub shop in Texaco Town -- but they have big ambitions.
"You have to start somewhere," Rudnicki said. "You start out cooking for someone else, then you go out on your own, and like I say, my ideal thing is I want a full-scale restaurant but this is how you get there."
Rudnicki and Horton are partners in Cindy and Barb's at the corner of Route 20 and Route 19 in Pavilion. They picked the location because they like the 14,000 cars that pass through the intersection every day. They also think that part of the county needed another dining option. And, besides, the space -- formerly the Pit Stop -- was available.
"I wasn't planning on a pizza and sub shop but that's what people wanted," Rudnicki said. "I'm giving people what they wanted and trying to do it at a fair price."
The restaurant is named after Rudick's and Horton's mothers. Rudnicki, especially, was influenced by his mother to make cooking a career.
He started out professionally at Mancuso's, then the Batavia Club. After serving in the military he returned to Batavia and wound up at Sport of Kings. He worked there for 19 years.
That's where he met Horton, who worked there 17 years. Before that, Horton had worked at the Candlelight Room, Bohn's, Sunny's, and Settlers.
Both Horton and Rudnicki said they really enjoyed working together at Sporto's. After Horton went through cancer treatment and recovered his health, Rudnicki pitched his restaurant idea.
"He said, 'I'm opening up a business, you want to do it with me?,'" Horton said. "I was like, 'sure, let's do it.'"
Cooking, Horton said, is just what he loves to do.
"It's just a fast pace," Horton said. "It's actually a rush when you're on the line getting your butts kicked and things are flying out the window and when you get done with it, you're like 'wow, we did put out a lot of food.' It's always been exciting for me."
Rudnicki was one of the competitors in the Foodie Challenge, which awarded two restaurant spots inside of Eli Fish Brewing as part of the FreshLAB project.
Not winning one of those two top spots didn't deter Rudnicki. He said he was intent on opening his own restaurant one way or the other. For him, he said, a lot of what the program offered was redundant given his years of experience in the restaurant business, though he did learn a few things that he thinks will help him going forward.
"It's a great program for people just starting out and who want to become entrepreneurs and do their own thing and create their own concepts," Rudnicki said.
The menu of Cindy and Barb's right now is standard road-side grill fare: pizza, sandwiches, hamburgers and hot dogs, and they also have an ice cream parlor.
"You've got to have ice cream," Horton said.
Rudnicki said new menu items will be added as the business grows and he will include daily specials along the way.
"In this business, you've got to change," Rudnicki said. "The minute you stay stagnate, you're done."
Both Rudnicki and Horton said they are determined to see their new business succeed because they're doing what they love.
By Howard Owens, The Batavian