Aug 29, 2018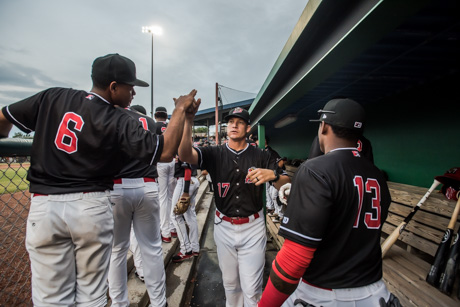 Right now, it looks like there will be professional baseball in Batavia in 2019, according to General Manager Dave Chase.
As the team heads into its final week of the 2018 season (barring a playoff appearance), Chase said last night that he's pretty confident the team will be back -- he gave it a 90 to 95 percent chance -- and he said he's getting good signals from league officials.
"We do have a draft of the 2019 schedule and we're on it, so I'll take that as a sign we're playing," Chase said.
The NYPL took over ownership of the Muckdogs early in 2018 and hired Chase, with decades of experience in minor league baseball, to run the team. He promised to improve on-field playing conditions and in-stands fan experience. He thinks both goals were achieved.
"The team has played much better," Chase said. "We don't win a lot at home but we're usually in it in 7th, 8th, and 9th inning and we believe if you're not going to win them, at least be in them, and then when people go home, they'll forget whether you won or lost they'll just know they had something to cheer about late in the game."
Attendance continues to be a concern but Chase said some of the attendance problems can be blamed on the late start he and the rest of the front office got on preparing for 2018. Tickets sales, including season ticket sales, started later than normal and there was no time to push group sales. While support from the local business community was very good this year, Chase said, the staff needs more time than they had in 2018 to work on obtaining sponsorships.
The biggest improvement has been on the field, especially the infield. In April, the infield was laser-leveled with the help of Batavia Turf and DuraEdge and the infield dirt was replaced with the same mixed by the Miami Marlins on their home field. Joe Mogavero took care of the field for more than the first half of the season and then Cooper Thomas finally got his visa to fly in from Australia and become the new head groundskeeper at Dwyer Stadium.
The improvements have been noticeable by players, coaches, and the front office, especially since Cooper Thomas joined the staff.
"Cooper was by far a step in the right direction," Chase said. "He has a vision. He knows what he wants. The question will be whether I can afford it but we are talking about him coming back in April.
Well in advance of the 2019 season, but not as soon as Chase would like to get him to come back to Batavia.
"I tried to get him to come in March but he said his heart would break if he had to look at a baseball field covered in snow," Chase said.
Manager Mike Jacobs took over the team in 2017 and returned in 2018. He said the improvements on the field and off have been welcome by both him and the players.
"It's been great, just even on the field, new dirt, finally got our regular head grounds crew guy and he's been great, Cooper," Jacobs said. "Since he's been here, the surface has played extremely well compared to what it was last year. They've made improvements inside the clubhouses on both sides. There are still things to touch up but overall I can't complain. It's been great."
The field is also getting high marks from the players, especially those who played on it in 2017 and came back in 2018. Both Demetrius Sims and Sean Reynolds said the improvement was noticeable on the first day of the season and the field has only gotten better as the season has gone along.
"We always looked forward to playing on the road last year but with the improvements from last year to this year, it's been a lot better with the surface and all the upgrades to the field," Sims said.
Reynolds said he's impressed with the work Cooper has done since he joined the team.
"(He) has done an unbelievable job making sure the field is in shape every night," Reynolds said. "The surface itself is 10 times better than it was last year. Last year it was like, you didn't know if you were going to be playing on gravel or sand every night. That's been great."
While Chase is also pretty confident the Marlins will be the Major League parent of the Muckdogs again in 2019, that decision won't be made until the middle of September or later.
Jacobs said he thinks the Marlins should come back to Batavia and neither Sims nor Reynolds expressed any reservations about the team returning.
The one thing they all want to see is more fan support.
"We don't have the biggest crowds," Jacobs said. "I would say this year we've had bigger crowds then what had in the past and that's a testament to the front office here in Batavia, whether through adverting or whatever to get fans in the stadium. You look at a night like tonight and it was pretty filled up for a Tuesday. I know they're trying and I would like to see us be able to come back."
Reynolds said if Batavians want to keep professional baseball in Batavia, they probably need to come to more games.
"Obviously, places like State College and Mahoning Valley, Tri-City, wherever else, they have a pretty cool set up compared to this," Reynolds said. "I think it's just a matter of people getting out to the game. I know every year there's kind of deal where it's like nobody wants baseball in Batavia to leave because it's a staple of minor league baseball but at the same time if you don't want it to leave then, you know, you've got to show a little bit of support."
The fan support, he said, matters to the players. There should be more games like the July 3 match against West Virginia when Dwyer was packed.
"There was, what, 2,500 people (ed. a little over 2,300) here, I think, and that was incredible because they were all cheering and they were chanting for us to win," Reynolds said. "That's what real baseball should feel like."
If asked by a prospect just starting out his career next year whether Batavia was a good place to play ball, Sim said he would say yes, but with a caveat.
"It depends on where you're from," Sims said. "If you're a big city guy, then you've kind of got to adapt to the area and what's around but it's been more than welcoming to be back here."
Top photo: Manager Mike Jacobs in the dugout on opening night.
By Howard Owens, The Batavian