Oct 28, 2018
You know you're in an authentic taqueria when you spot a sign next to the salsa roja warning the gringos, "Danger!"
Not every dish in a Mexican restaurant is spicy, of course, but if the discerning diner doesn't have the option to bite into something that bites back, then it's just not the real deal.
A bottle of Frank's Hot Sauce on the counter doesn't cut it.
"I think we are very very authentic," said Jose Castañeda, owner of the brand new Los Compadres at 40 Oak St., Batavia. "We serve tacos and pretty much that's what we do. We will be getting a liquor license, of course, in the near future.
(The U.S. colloquial translation of Los Compadres is "The Buddies.")
"We do try to be as authentic as we can. We have very good people, very good cooks and they take a lot of pride in what they do. I think that helps us to be successful."
During the first week of business, local residents have had no trouble finding Los Compadres, keeping the lunch and dinner hours busy, often with repeat customers, Castañeda said.
"Many people that we've served since we opened had come back three days in a row," Castañeda said.
The success isn't unexpected for Castañeda. This is the 10th Upstate Mexican restaurant the Batavia-resident has opened, including another Los Compadres in Evans Mills, near Ft. Drum, with the same menu, that has done very well.
"I would say that 90 percent of our customer base is military (at Los Compadres in Evans Mills)," Castañeda said. "They are very happy with the food there. We are a five-star restaurant there and we have a thousand reviews. Being that I'm a resident in Batavia and I wanted to do it here, too."
For those of us with experience eating at authentic taquerias, there are other good signs when you walk into Los Compadres, starting with the straightforward menu above the front counter, the Mexican pottery and artwork displayed in the dining area, a salsa bar so you can garnish your own tacos, and the drink dispenser serving Mexican favorites, the refreshing agua frescas -- horchata, tamarindo and jamaica.
On the menu, tacos, tortas, quesadillas, and tamales, with meat choices including pollo(chicken), carne asada (the main ingredient in an authentic Tijuana street taco), molida(ground beef), barbacoa (brisket), al pastor (pork with pineapple), chorizo (Mexican pork sausage), cesina (dry salted steak), lengua (tongue), camarones (shrimp), tripa (gut), taco baja (fried fish), taco compadres (fried shrimp).
One of the best things about Mexican food is it is inexpensive. Tacos range in price from $2.50 to $4.
Rice and refried beans on the side are only $1 each.
The tacos are served with corn tortillas, which is as it should be; though, if you want to go gringo with your tacos, you can order flour tortillas.
Castañeda staff takes the time with new customers who may have little experience with Mexican food to explain the difference between tacos, torts, quesadillas and tamales.
The secret to a restaurant's success, Castañeda said, isn't just the food, it's the customer service. Restaurants that fail often miss the mark with customer service, so he said he makes sure his staff provides great service.
Castañeda was born in Zacatecas, Mexico, which is in the north central area of the country, south of Monterrey, north of Guadalajara. His parents immigrated when he was a young child and their first jobs were picking cotton in Texas.
While he was still a child, they moved to Western New York for farm work. Near the end of his 10th-grade year, Castañeda dropped out of high school and took a job on a farm in Brockport.
When he was 16, he went to work for Craig Yunker at CY Farms.
"I've worked ever since," Castañeda said. "I worked for the farms and any farm work I did, I did with pride in everything I did. It didn't matter what I was doing, whether I was sweeping the floor or if I was operating a tractor, I put pride in my work. That's that was how I was raised."
Castañeda started in the cabbage fields at CY Farms, he said. It wasn't long before the Yunkers took notice of his worth ethic. He was made a tractor operator and then moved to pesticide management for Batavia Turf. By 2006, after learning every job of the operation, he became manager of Batavia Turf, a position he held until 2016 when he quit to give his full attention to his burgeoning restaurant empire.
Castañeda started in the food business after visiting a cabbage operation for CY Farms in Florida and spotting a food trailer serving migrant workers on the farm there.
"I was down there and I saw people coming to the farms and bringing the food to the migrant workers so I thought it's a great idea," Castañeda said. "At that time here in Genesee County there was none of that going on, so I went to Indiana and bought a trailer."
His wife pretty much ran that business until six years ago when she became pregnant with their now 5-year-old son.
In 2014, he opened his first restaurant in Lockport.
He was working at this point more than 100 hours a week, starting at Batavia Turf at 4 a.m. and working until the early evening and then doing the books and paperwork for his restaurants at night.
"It was busy working on the farm and trying to manage the restaurant," Castañeda said. "I felt there was a good business. It was a lot of work but it was a good business."
Leaving CY Farms wasn't an easy decision, though Castañeda said it proved to be the right decision.
"My wife was opposed to it because I guess, we got so used to working on the farm and making a living," Castañeda said. "I was pretty much my own boss."
Castañeda and his wife have three children, Brenda, 24, Jocelyn, 17, and Jose Sebastian, 5. The family bought a home in the City of Batavia 15 years ago.
"My parents were migrant workers," said Castañeda, whose mother has returned to Mexico and whose father died 12 years ago. "They started picking cotton in Texas. We grew up very poor. Even when I got married to my wife back in 1993, we were very, very poor.
"I worked many hours on the farm. Still, we were barely getting by. But I think through years of hard work and persistence, I always had a dream to give my kids what I wasn't given."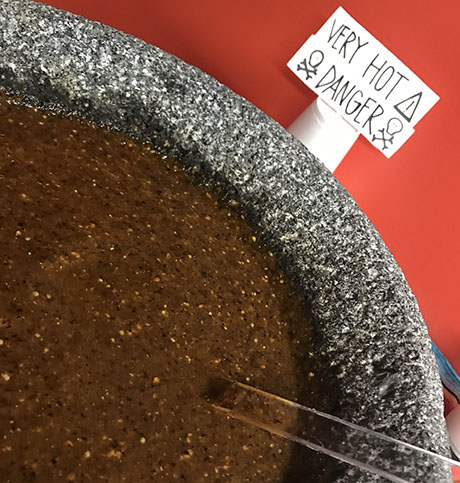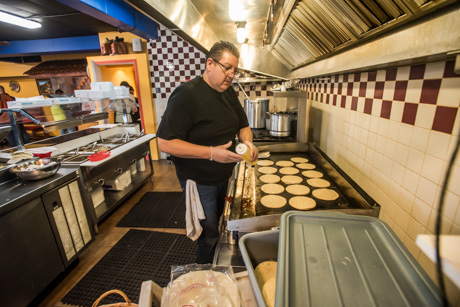 By Howard B Owens, The Batavian